K9 Nose Work, Taught by Certified Nose Work Instructor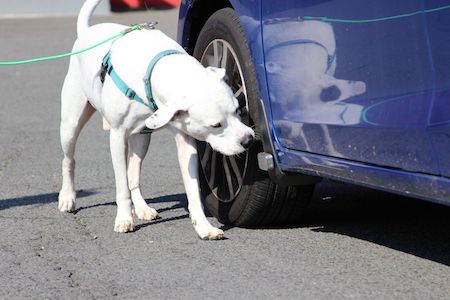 Did you know Virginia has just 8 Certified Nose Work Instructors (CNWI), and Fur-Get Me Not's Heidi Meinzer is one of them? Heidi completed a rigorous program of hands-on training, instructor coursework, and teaching handlers and dogs before achieving certification by the National Association of Canine Scent Work (NACSW). The NACSW's tag line, "Making K9 Nose Work the Best Smelling Dog Sport Ever!", hints at its emphasis on lighthearted fun. But it arose from a far more serious pursuit: NACSW's founders are professional narcotic and explosive detection dog handlers. They recognized that, while few dogs are cut out to sniff out drugs and bombs for a living, every dog has a miraculous nose and delights in using it. The methodology they developed, and that Heidi uses in our K9 Nose Work classes, boosts each dog's natural hunt drive by turning the search into an irresistibly exciting game.
Heidi got her start three years ago, coached by former Air Force bomb dog handler Jacy Kelley, who runs Canine Copilots. At that time, Jacy was one of the only NACSW certified instructors on the East Coast, and few people had even heard of K9 Nose Work. Jacy was eager to broaden the reach of the sport, and he offered to teach Fur-Get Me Not trainers the ropes. Heidi, not entirely sure what she was getting herself into, was nevertheless intrigued. Fellow trainers Tammy, Vivian, Roz, and Jackie also jumped in with both feet. Almost immediately they saw how they could weave Nose Work into existing classes, and Fur-Get Me Not started gearing up to offer a full-fledged Nose Work course. Heidi's own dogs Sophie and Boomer quickly became Nose Work junkies. Heidi remembers her usually timid shepherd Sophie literally "ripping the leash out of my hand and diving into a pile of boxes to get to a hide in one of our sessions! That pretty much sealed the deal for me." Next Heidi jumped at a chance to go to Nose Work Training Camp in Pennsylvania, then jetted off to Iowa for a NACSW instructors' course, then zoomed back to create Fur-Get Me Not's very first K9 Nose Work program.
Heidi's first instruction for Nose Work newbies: Put your clickers away and check your sit-stays at the door. Nose Work class isn't where handlers show off how well their dog does what he's told; it's where dogs get to be dogs. Dog and handler work as partners, with the dog and his nose in the lead. Handlers learn to read their dog's signals and trust his instincts. Dogs develop independence, confidence, and problem solving skills. As dogs attempt more challenging hides in more complex settings, they'll be stuffing their heads into narrow spaces, teetering on (and maybe knocking over) unstable boxes, and sometimes causing things to tip over or make noise. It's 100% safe, but a sensitive dog might be unnerved by these experiences--except that in Nose Work, the game of seeking and finding hot dogs becomes so addictive that dogs are willing to take risks they wouldn't otherwise dare. And winning at that game every time puffs them up with pride. Veteran Nose Work client Margot LaPorte puts it this way: "Heidi teaches it so every dog succeeds, and every dog feels they've succeeded. They don't have to be good at it, they just get to feel good about what they're doing."
Margot and her husband Kieron Bryan read about Nose Work on Fur-Get Me Not's web site and thought it might be a good fit for their new rescue beagle Beric. After all, he'd already been doing his own version of Nose Work at home. He once sniffed out (and subsequently devoured) the remains of the couple's wedding cake! But the cake caper was one of Beric's few thrills; much of the time he seemed withdrawn and shut-down. At Nose Work, Margot and Kieron were astonished to see a whole new dog--an ecstatic dog, one who relished using his nose and brain to solve elaborate hide and seek puzzles. "It's his favorite thing in the world to do," Margot says. Beric even gradually overcome his paralyzing fear of cars. "He used to cower and curl into a ball around cars. But once he realized if we bring our treat bag to the car it means he's going to Nose Work, he started flying in. And after he learned to do vehicle searches in class, he started searching our car every time before jumping into his seat."
It's not uncommon for positive effects of Nose Work to spill over into "real life". Dogs with environmental sensitivities, like Beric, grow braver. Even dogs with more serious behavioral issues, like resource guarding, can be transformed. Betsy Davies described her nine year old rescue dog Emma this way: "She was my problem child. She was a kleptomaniac!" Emma would steal Betsy's clothes, drag them into the bathroom, rest her chin on top, and growl and snap when Betsy tried to repossess them. When she heard we were starting up a Nose Work class and welcomed "dogs with issues", she decided to give it a whirl. Emma took to it right away, loved the hunt, and excelled at it. But something was going on outside the class as well. "It made a huge difference," attests Betsy. The stealing, growling and snapping petered out, and Emma at last hit her stride within her new family. When asked why Emma loves Nose Work so much, Betsy mulls for a moment. "Maybe it's the bonding, the one on one time--the fact that it's 'just me and mom' and our other dog's not around? And maybe she finally learned to trust me."
So if you're looking for a trust-building, bond-deepening, dog-centered, obedience-free, confidence-boosting, fear-busting, rolicking fun game that you and your dog will win every time, led by one of the most highly qualified instructors in our region, sounds like Fur-Get Me Not's K9 Nose Work is for you!
If you have questions, please email our Training Department.
Photo by Nikki Cheshire